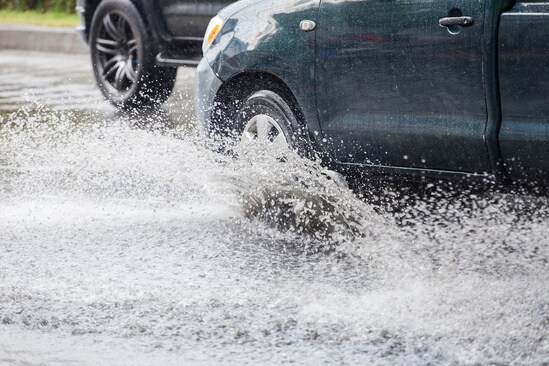 Need help recovering flood damage or hurricane damage to your car here in New Orleans? Let Bergeron Automotive help you out!
There's always been a lot of perks to living here in the greater New Orleans area. NOLA has some of the best food in the world, a rich history right beneath our feet, and some of the friendliest folks on the Gulf Coast to boot. But if there's one thing that we know everyone here in Metairie could do without, it's flooding.
Whether you're from right here in our hometown or from nearby communities like Westwego or Kenner, you know to expect at least some flooding on a yearly basis. And when the waters rise, there's always the chance of flood damage to your vehicle. Fortunately, if the fear of flood damage has you fretting, you'll be happy to learn that Bergeron Automotive is here to help alleviate that stress.
Hours
Monday

08:00AM - 08:00PM

Tuesday

08:00AM - 08:00PM

Wednesday

08:00AM - 08:00PM

Thursday

08:00AM - 08:00PM

Friday

08:00AM - 08:00PM

Saturday

08:00AM - 08:00PM

Sunday

Closed
As a family owned dealership that's been serving the greater New Orleans area for over 50 years, we're well-acquainted with the challenges that
hurricane damage
and
flood damage
can present here at Bergeron Auto. And whether you want to know what steps to take if your
car is effected by flood damage
, or you want to avoid accidentally buying a flood damaged car near Slidell, you can always count on us for the answers and assistance you need.
How to check if your car has flood damage
Submersion check: First, check how deeply your car was submerged. If the waters never reached the bottom of your car's doors, chances are the extent of the flood damage won't be as severe. However, if the waters reached as high as your car's dashboard, most insurers will mark the car as totaled. Remember to keep an accounting of roughly how long your car was submerged or carrying water, as shorter exposure times typically lead to better outcomes.
Oil indicator check: Don't start your car before you check your oil indicator! With flood damage, water can often enter the engine, so checking your oil level indicator for signs of moisture or a higher than average oil level can let you know if that's happened before you do serious damage to your vehicle.
Debris check: Check for surrounding debris. With hurricane damage, water is just one of the many causes of damage to your vehicle. Make sure to check around your vehicle for downed branches and powerlines, as well as underneath your car for any debris that might have damaged your car's undercarriage.
What to do if your car has flood damage
Get in touch with your insurance agency as soon as possible. Flood damage is typically widespread, so getting started on the process of making a claim is imperative to getting your transportation situation back to normal as soon as possible.
Total it? If you've inspected your car and uncovered signs of significant flood or hurricane damage, it may be smart to push for your car to be declared totaled by your insurance company. Even if you think you might be able to manage with it, the full effects of the damage may not be immediately apparent, especially if your car was submerged in corrosive sea water as we often see here in the greater New Orleans area.
Dry it out: If your car isn't declared totaled, start drying out the interior of your car as soon as possible. You may still have to replace interior upholstery at a later date but starting the process of drying out your car can help head off some of the moldy smells. If possible, use a wet/dry vacuum or humidifier to  remove moisture, or just open the windows and use towels to get water out of the upholstery.
Watch out for fluid leaks such as oil, brake fluid, coolant, or even gasoline. Don't take any chances driving a leaky car and call a tow truck immediately if you notice any issues.
Test electrical systems: If your car is able to turn on, do so and test its electrical systems, including its headlights, stereo, power locks, and any other electrical components. Even if all seem to be working properly, it's still a good idea to have your car's electrical system inspected by a certified service professional.
How to avoid buying a flood or water damaged car
Anyone who lives in a flood prone area needs to be on the alert for used cars with water damage. Here are some warning signs:
Odd Odors: Musty or mildew-y smells can be a sign that water has penetrated the interior of a vehicle
Damp Upholstery: Feel around the carpets and seating, and if you detect moisture, it's likely a sign that there's been some flood damage
Corrosion: This is especially prevalent with cars here in the greater New Orleans area that have been damaged by sea water. Look for corrosion in common areas like the door jamb, underside of the dashboard, pedals, and seat springs to see if sea water has been in contact with the interior.
Accumulated Moisture: If you see droplets accumulating on or behind the glass of the instrument pan or exterior lighting, it's usually a good sign that a significant amount of water has gotten inside the vehicle.


Come see why New Orleans drivers trust Bergeron Automotive with their flood damage and hurricane damage repairs year after year
Given our extensive expertise with hurricane and flood damage repairs, it's easy to see why drivers from Metaire to Slidell and all points in between entrust the care of their cars to us. We take a lot of pride in customer care and understanding, especially when it comes to incidents that effect the entire Gulf Coast community like hurricanes and flooding. So, if you ever need a dealership to help you get back on the road and back to normal, feel free to get in touch with the team here at Bergeron Automotive.